因新型冠狀病毒肆虐,賽事取消,不作補賽
Cancellation due to the epidemic of the coronavirus disease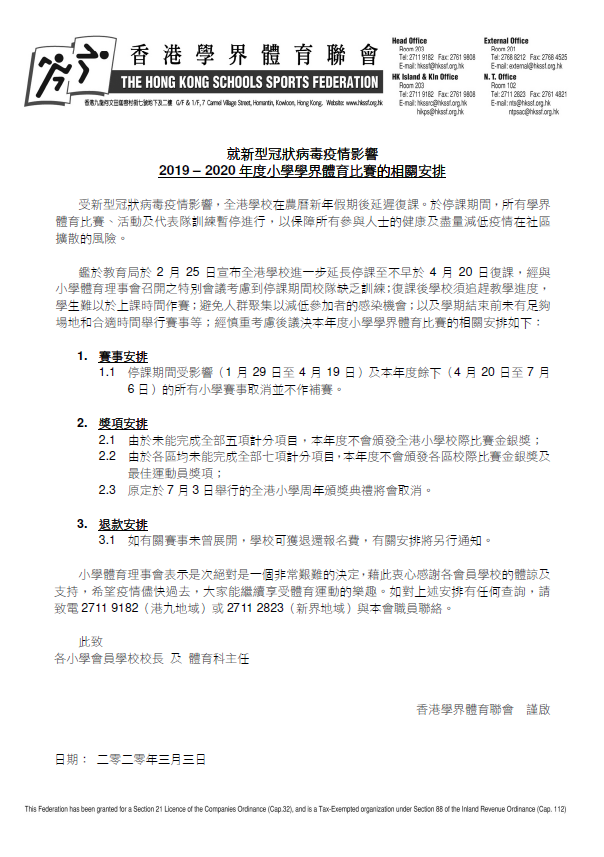 港島及九龍地域小學《網上報名系統》
"Online Entry System" for HK Island and Kowloon Region Primary Schools
為減省學校及老師的行政工作及提高報名資料的準確性,港九地域小學辦事處將於本年度繼續使用學校網上登記及報名系統,以便學校提交會員登記、各項校際游泳、田徑及球類比賽報名表及參賽運動員名單(學校必須完成會員登記後才可進入比賽報名系統);而由本年度開始有關報名系統將擴展至全港小學校際比賽及精英賽報名等。登入名稱與密碼已於8月13日郵寄予各會員學校,為保障安全,敬請於首次登入後立即更改密碼。
The Office of HK Island and Kowloon Region Primary Schools of HKSSF will continue the application of "Online Entry System" in 2019-2020, which allows our schools to submit their membership registration and sports entry for Inter-Schools Athletics, Swimming and Ball Games Competitions through the system. The system aims to ease the heavy administrative workload bear by schools and teachers, and to safeguard the accuracy and privacy of schools' information provided. The online application will also extend to All Hong Kong Inter-Primary Schools Competition and Jing Ying Tournament in this school season. The Login ID and Password have been sent to respective school by post on 13 August. For security reason, you are requested to change your password at your first login.
忘記密碼 Forgot Password
學校如需重設網上報名系統之帳戶密碼,請填妥「帳戶重設密碼申請」表格後傳真至2761 9808。
本會秘書處將於2個工作天內將新密碼發送至學校提供之電郵地址。
Please complete the form of "Request on Password Reset for Online Entry System" and fax to 2761 9808.
The new password will be sent to the email address provided within 2 working days.
查詢 For Enquiry
請聯絡秘書處 Please contact the Secretariat at
2711 7162 / 2711 9182 / hikpsonline@hkssf.org.hk